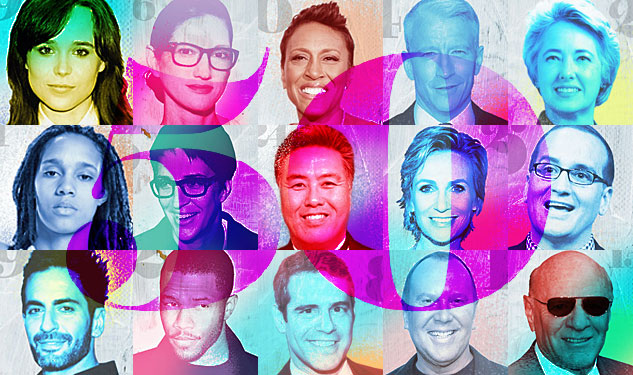 OUT Magazine, the world's leading publication for gay fashion and lifestyle trends, has just released its 8th Annual Power List – a.k.a. the OUT Power 50. OUT Magazine wants to know, What does LGBT power look like in 2014? During its quest to find the most powerful members of the LGBT community, OUT's editors realized something very important: that "power" as we know it is a fluid, evolving thing.
Explains the OUT.com editorial team, "The idea of power – who has it, how they wield it, who it affects – has changed immeasurably over the past few years alone, but we still wanted to measure it. So it was time to rethink how we ranked the profiles of the 50 most powerful lesbian, gay, bisexual, and transgender people in America, calculating their public profiles and cultural influence; their impact through traditional outlets such as politics and business, along with an ability to harness social media and new forms of communication," of the way that visibility and power have changed immensely in the last handful of years.
The most powerful members from the LGBT community right now are athletes, Internet celebrities, entertainers, transgender advocates, CEOs and public figures who aren't keeping quiet about equal rights. These people are not afraid to make a ruckus in the name of equality; they are out and proud, and they are role models to countless LGBTs around the globe. The OUT Power 50 embodies an empowered and courageous group of individuals, and each and every one of them is a leader to a more equal world.
The list definitely contains some repeat power players – think Rachel Maddow, Andy Cohen, Neil Patrick Harris, and Ellen DeGeneres, the latter whom came out on top as the number one pick this year. This year's Power 50 also introduced a handful of newcomers like newly out NFL hopeful Michael Sam and TV host Robin Roberts, who both cracked the top ten. OUT didn't include notable transgender advocates Laverne Cox and Janet Mock in the Power 50, but did include a follow-up piece about how more than ever, transgender individuals are gaining mainstream visibility. Also notably absent was actor and LGBT rights activist George Takei, who has gained massive amounts of pop culture relevance in recent years, as well as a profound reputation on the Internet.
Other notable members of the Power 50 include actress Ellen Page, J. Crew's Executive Creative Director Jenna Lyons, musician Frank Ocean, screenwriter and activist Dustin Lance Black, and openly transgender billionaire Jennifer Pritzker.
Check out the full list of powerful LGBTs by visiting OUT's 8th Annual Power 50 list.
Featured Image: via OUT.com.