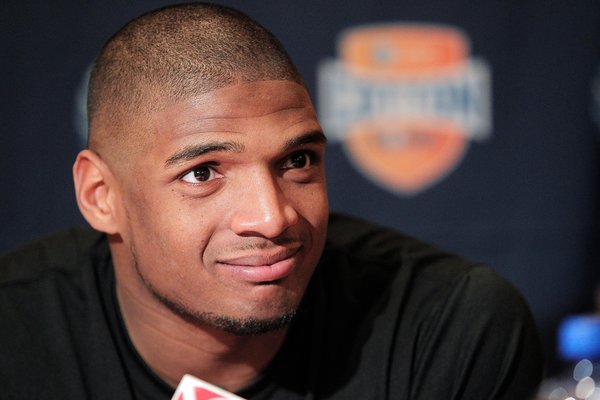 2014 was an undeniably positive year for lesbian, gay, bisexual, and transgender (LGBT) athletes. The visibility surrounding queer athletes in the mainstream media reached an unprecedented level this year; many athletes came out and excelled in their respective sports, inspiring LGBT youth around the globe. Cultural stigma that surrounds queer people in the sports world is slowly unraveling and the perceptions of what it means to be a LGBT athlete are evolving.
Here are some of the biggest LGBT sports moments of 2014:
Michael Sam comes out. Michael Sam made history last February when he came out as gay in an interview with ESPN. Sam came out before he was drafted into the NFL and when he was drafted, he became the first openly gay player in the NFL. When he did get drafted to the St. Louis Rams it was another big moment as Sam kissed his boyfriend on national television after hearing the good news.
After Sochi, the International Olympic Committee added sexual orientation to the non-discrimination policy. Despite this historic change, many claim it is not enough, as there is no gender identity clause and no guarantee that the Games won't be hosted in future anti-queer countries. However, the addition is a huge step for the committee towards protecting LGBT athletes.
In November this year, Jason Collins Collins is the first openly gay professional athlete to compete in any of the four major North American sports leagues. His openness about his sexual orientation has been an inspiration to many other LGBT athletes.
This summer the United Nations publicly encouraged World Cup athletes to come out "without fear."
Tom Daley revealed he's gay, not bisexual. The swimmer is seen as one of the biggest sport inspirations to many aspiring athletes.
Derrick Gordon became the first openly gay male NCAA Division 1 basketball player at UMass.
Brittney Griner was named "Female Athelete of the Year" by Outsports. Not only is Griner incredibly talented and touted as one of the best female basketball players in professional sports today, she has always been very open about her sexual orientation. She is a true inspiration for both her athleticism and her presence in the LGBT community.