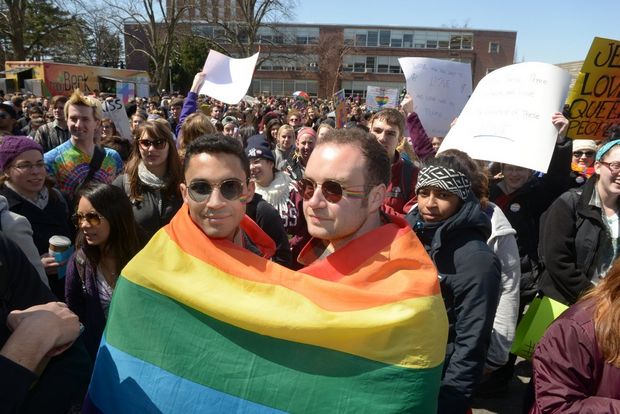 The Westboro Baptist Church (WBC) has been in the news a lot lately – what with their founding leader Fred Phelps' passing – but their hateful message seems to be less and less relevant. Nothing proved this more than the spirited students from the University of Massachusetts in Amherst (UMass), who successfully sent WBC protestors packing during a counter-protest earlier this month. The protestors from WBC were allegedly targeting newly out Division I basketball player Derrick Gordon, but were unsuccessful when faced with his passionate, supportive UMass peers.
According to The Advocate, "It's not unusual to see five members of the Westboro Baptist Church protesting an LGBT person, It's somewhat more unusual to see advocates and allies protesting back in a crowd 300 times the WBC's size," of the remarkable showing of support from the UMass students. The five measly WBC protestors looked rather pitiful compared to the hundreds of young, loud, prideful students who came out to let them know that their hate wasn't welcome anywhere near the UMass campus.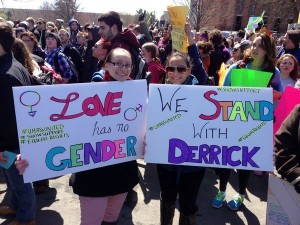 Reportedly, Derrick Gordon became the first openly gay man to play college basketball earlier this month when he came out to teammates and friends at UMass. In recent years, many professional athletes have come out, including Jason Collins, NFL hopeful Michael Sam, and others. It's the encouragement from teammates, friends, family, and coaches that makes it possible for these athletes to feel comfortable coming out; in Gordon's case, he had hundreds of his college peers standing up for him against the likes of the infamously hateful and homophobic WBC.
These days, the meager protests of the WBC have become less of an overwhelming threat to the safety and humanity of the soldiers, LGBT individuals, and politicians that they target, and more of a lingering, nagging reminder that hate does still exist in the world. The WBC of today is not the bigoted force it once was, and in the case of the recent UMass counter protests, it would appear that outright homophobic attitudes are becoming the minority.
Learn more about successful WBC counter protests in our full profile of Equality House.
Images: via Mass Live