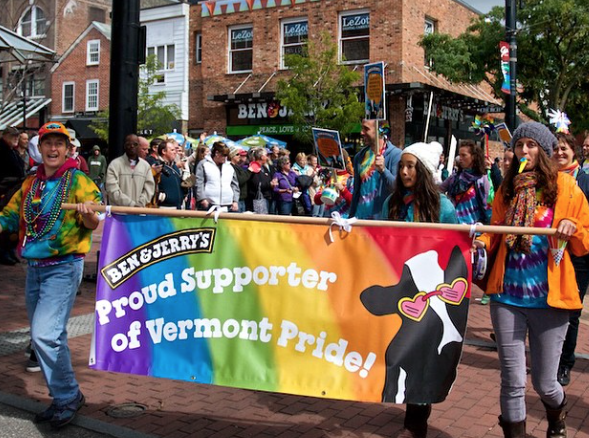 Beloved ice cream franchise Ben & Jerry's took a bold stand in defense of same sex marriage earlier this month, signing an Employers' amicus brief requesting that the US Supreme Court review pending marriage equality cases in Utah, Oklahoma, and Virginia.
According to The New Civil Rights Movement, "The religious right has thirty more companies to choose from to boycott for their support of same-sex marriage. In an amicus brief [sent] to the U.S. Supreme Court last week, 30 top corporation, many listed on the S&P 100, petitioned the nation's top justices to 'consider a uniform principle that all couples share the right to marry."
An amicus brief is a document containing the legal opinion or testimony of a party or parties which is unsolicited by the court. Ben & Jerry's were among 30 other companies, including Amazon, Viacom, and Target, that signed the amicus urging the Supreme Court to review several marriage equality cases. Ben & Jerry's outlined its position in a press release on September 12th.
"Often it's not enough to change the way you do business, or change the practice within your business," Chris Miller, Ben & Jerry's Social Mission Activism Manger, said in the press release. "Unless you're willing to stand up and advocate for the rights of others, not just here in our backyard but around the world, it's often just not good enough."
This is not the first time Ben & Jerry's has stood up for the rights of the LGBTQIA community or marriage equality. According to Ben & Jerry's website, they have been providing benefits for same sex couples since 1989. They supported the community ever since; in 2011 company founders Ben Cohen and Jerry Greenfield joined the "NYers for Marriage Equality" effort launched by the Human Rights Campaign. Recently, Ben & Jerry officials took part in Vermont's Pride parade on September 14th.
You can find the entire press release on Ben & Jerry's website here.
Featured Image: via Instagram.