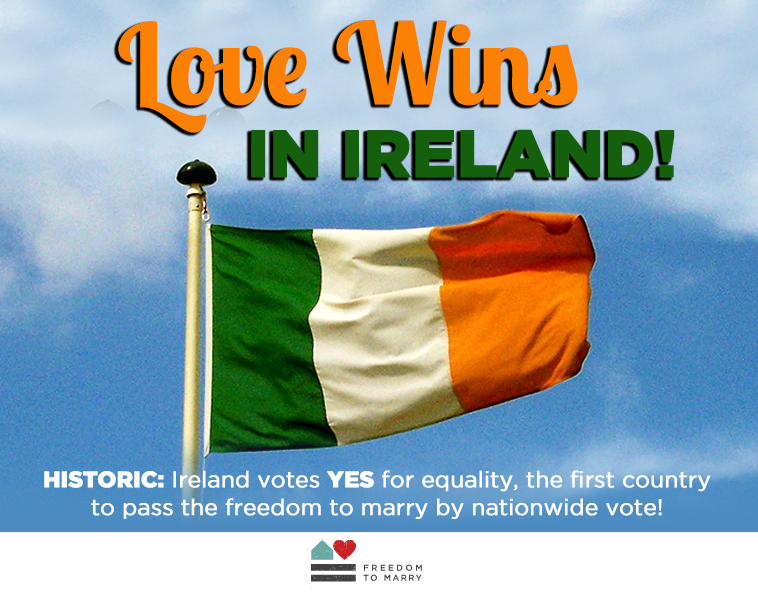 Ireland became the first country in the world to vote in favor of legalizing same-sex marriage this weekend (same-sex marriage is legal in other countries, but Ireland became the first country to approve the freedom to marry by popular referendum). At a final count of 62 percent voting in favor of legalizing gay marriage in the country, more than 1.2 million people voted yes.
Dublin and much of the country have a celebratory mood over the city even before official results were announced around 7pm. The crowd spontaneously broke into Ireland's national anthem as they awaited the final tally.
The vote drew more than 60 percent turnout nationally for the first time since the country narrowly voted to legalize divorce in 1995, according to Reuters. When the Irish voted to ease access to foreign abortions in 1992, 68 percent of eligible voters cast their ballot. President of Ireland Michael D. Higgins said he was encouraged by the amount of young people who came out to vote. "Today's victory is the culmination of decades of struggle which has forced this government and conservative elements in the establishment to hold this referendum," Higgins said.
Catholic Church leaders and gay rights advocates have said the result signaled a social revolution in Ireland. Voters first legalized divorce only by a thin margin in 1995 and now by a firm majority they have rejected the Catholic Church's repeated calls to reject gay marriage. Abortion is still outlawed in the country but looms as the country's next great social policy fight. At the George, Ireland's oldest gray pub, drag queens were seen dancing and lip-synced to Queen and the founding father of Ireland's gay rights and campaign, Sen. David Norris, basked in the greatest accomplishment of the movement's 40-year history.
Ireland happily joins the list countries where same-sex marriage is legal, including The Netherlands, Belgium, Spain, Canada, South Africa, Norway, Sweden, Portugal, Iceland, Argentina, Denmark, Brazil, France, Uruguay, New Zealand, the United Kingdom, Luxembourg, and Finland. Learn more about international freedom to marry progress here.
Featured Image: via Freedom to Marry.