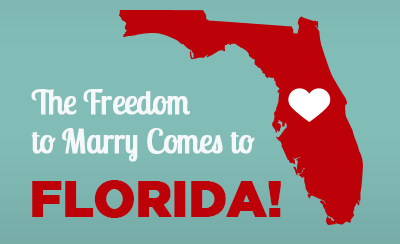 A circuit judge lifted the stay on same-sex marriage in Miami-Dade county earlier this week, making it the first county in the state of Florida to allow same-sex couples to marry. The ruling was made a little more than 12 hours before marriage equality began for the rest of the state. Miami-Dade Circuit Judge Sarah Zabel ended the stay in a state court marriage case that only addresses marriage licenses in the county.
"Preventing couples from marrying solely on the basis of their sexual orientation serves no governmental interest," Zabel wrote when she decided in July to strike down the state's ban on same-sex marriage. "It serves only to hurt, to discriminate, to deprive same-sex couples and their families of equal dignity, to label and treat them as second-class citizens, and to deem them unworthy of participation in one of the fundamental institutions of our society."
Same-sex marriage officially became legal across the state of Florida at 12:01a.m. EST on Tuesday this week. The people of Florida had approved a constitutional amendment banning bay marriage in 2008 votes. On Sunday, former Florida Governor Jeb Bush (R) expressed his disapproval of the court's decision to allow same sex marriage and said it should be up to the voters' decision.
"Marriage actually allows over 1,000 protections and benefits to individuals and families, so it's a huge step forward for equality," said Damien Pardo, whose organization Save Dade is now called simply Save. "We still have a long way to go," Pardo added who is gay. Gay marriage is still illegal in 14 states, and, unlike in Miami-Dade County, discrimination against gays is not prohibited by law in many jurisdictions."
Florida has had its fair share of struggles in the greater fight for marriage equality, especially over the last six months. Now that state officials are finally on board, even more loving, committed couples can happily wed in their home state.
Featured Image: via Freedom To Marry.