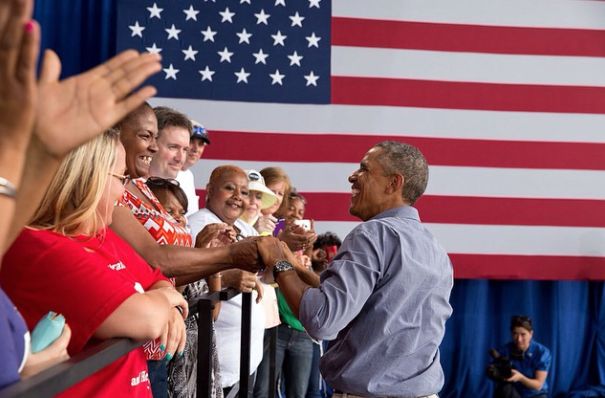 With all of the momentum that the fight for marriage equality gained last week, the inevitability of universally legalized same-sex marriage feels tangible. The United States Supreme Court has been influential in much of the progress being made towards equal marriage rights, and some have even cited President Barack Obama's endorsement of marriage equality as being a huge factor in the gay rights movement.
While few presidents have come out in favor of the freedom to marry, the ones who have should no go unnoticed. Here are three presidents that are pro-marriage equality:
Barack Obama. President Barack Obama famously reached out to openly gay political consultant Ken Mehlman for advice on the issue of marriage equality. President Obama believed that coming out in favor of marriage equality would prove unfavorable to the American public. "The notion that politically this is going to kill you – I don't buy it," Mehlman advised. In his Inaugural Address on January 21, 2013, Obama said, "Our journey is not complete until our gay brothers and sisters are treated like anyone else under the law, for if we truly created equal, then surely the love we commit to one another must be equal as well." In addition to coming out in support of marriage equality, the president's administration helped to eradicate the military's "Don't Ask Don't Tell" policy, as well as the Defense of Marriage Act.
Bill Clinton. In 2011, the Human Rights Campaign (HRC) released a statement made by President Bill Clinton that supported marriage equality legislation. "Our nation's permanent mission is to form a 'more perfect union' – deepening the meaning of freedom, broadening the reach of opportunity, and strengthening the bonds of community," the statement began. "[…]For more than a century, our Statue of Liberty has welcomed all kinds of people from all over the world yearning to be free. In the 21st century, I believe New York's welcome must include marriage equality."
Jimmy Carter. Jimmy Carter served as the 39th president of the United States, and has many incredible things since his presidency ended, including winning a Nobel Peace Prize. In a 2012 interview with The Huffington Post, Carter was asked why some people think the gay community shouldn't have equal rights because of passages in the Bible. To this question, he responded, "Homosexuality was well known in the ancient world, well before Christ was born and Jesus never said a word about homosexuality. In all of his teachers about multiple things – he never said that gay people should be condemned. I personally think it is very fine for gay people to be married," endorsing equal rights for gay and lesbian people.
Now that marriage equality is embraced in 26 states, hopefully future presidents will contribute to gay rights movement by lending their support.
Featured Image: via Instagram.