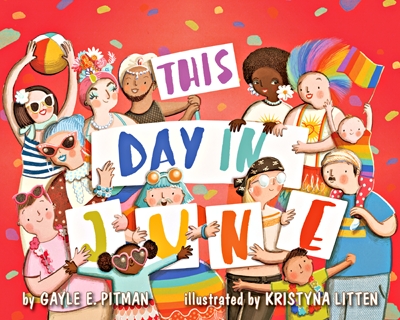 Just in time for LGBT Pride Month and all of its important annual festivities, a new children's book designed to teach young readers about the LGBT community was recently released. Written by Gayle Pitman and illustrated by Kristyna Litten, This Day In June is a resource for children and parents that provides information about LGBT culture and history in an easily digestible storybook. According to GLAAD, This Day In June was published by Magination Press, a prestigious division of the American Psychological Association (APA).
Described as "a wildly whimsical, validating, and exuberant reflection of the LGBT community, This Day In June welcomes readers to experience a pride celebration and share in a day when we are all united," by Amazon, the book is chock-full of important segments that describe LGBT culture and invite young readers to celebrate what makes them proud to be unique. Amazon also calls the book "an excellent tool for teaching respect, acceptance, and understanding of lesbian, gay, bisexual, and transgender people," making it an ideal resource for parents who are unsure of how to broach these topics with their children.
After author and psychology professor Gayle Pitman discovered that many of her students at Sacramento City College knew next to nothing about LGBT history, she decided to try and create a tool to get the dialogue started earlier. Says Pitman, "Many of [my students] don't know what the pink triangle means, the significance of the rainbow flag, they don't know what Stonewall is," of the iconic symbols that have shaped the social landscape for the LGBT community over the last fifty years in particular.
Curious children who are learning about gender, identity, and self-expression will love learning about the diverse and unwavering LGBT community in a colorful book that celebrates pride. Parents who are eager to talk to their kids about the ways in which people are different, or about LGBT Pride month in general will find that This Day In June provides excellent context and serves as a conversation starter.
To read reviews or to learn more about the new children's book, visit www.apa.org.