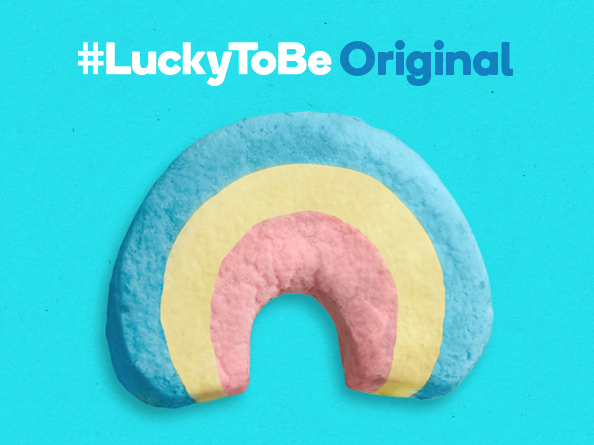 In honor of LGBT Pride Month, Lucky Charms Cereal has launched a new campaign called #LuckyToBe, a movement that celebrates each of our differences. People from all over the world are invited to share what makes them unique using the #LuckyToBe hashtag and posting photos and stories to social media. The campaign is an easy way to honor all people, regardless of where they live, what they look like, or whom they love.
Even if you haven't had a bowl of Lucky Charms cereal since you were a kid, it's nice to know that such a major brand is standing up for equality and LGBT pride. Some homophobic companies and CEOs have a knack for sputtering hateful, prejudiced messages, so it's nice to see family-oriented brands like Lucky Charms working hard to spread a more loving, positive message. According to the #LuckyToBe campaign,
"We're Lucky. We live in a colorful world, full of colorful people. We don't all look the same, believe the same things, or love the same people, and that's a good thing. It makes the world interesting. Special, Beautiful, Magical.
Thousands of people on Twitter, Facebook, Instagram, and other popular social media platforms have used the Lucky Charms campaign hashtag to share what makes them different, and why they feel lucky to be the way that they are. Countless young people have used #LuckyToBe to acknowledge their sexuality, relationships, and the differences that make our world a more colorful, dynamic place. Whether you're young, old, straight, cis-gender, a member of the LGBT community, pansexual, introverted, butch, a single parent, an aunt or uncle, able-bodied, feminine, quirky, asexual or anything else at all – you're lucky to be uniquely you, and we're lucky that you are part of this world we all share.
Hopefully as LGBT Pride month continues we'll come across even more positive, equality-driven campaigns. What are you #LuckyToBe?