Ever since First Kiss – the short film by Tatia Pilieva and Melissa Coker that featured twenty strangers kissing – debuted last week, it not only went instantly viral, but also inspired a string of parodies. One such filmic parody has already garnered nearly 170,000 views in just two days, and it features an array of homophobic people being asked to hug a gay or lesbian stranger. First Gay Hug (A Homophobic Experiment) was created by The Gay Women Channel, and it's just excellent.
As the film begins, the words "We asked 15 homophobic people to hug gay strangers," roll across the screen. What comes next are three minutes of intermittently frustrating, overwhelmingly endearing interactions between gay and straight, homophobic strangers. Taking cues from First Kiss, First Gay Hug shows the initial introduction of each of the pairs, in which gay stereotypes are dispelled or challenged, and wherein the strangers ultimately find a way to relate to one another.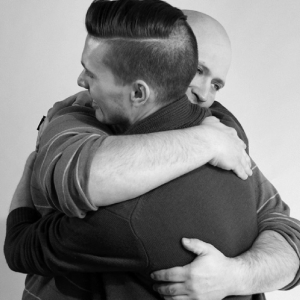 In one instance, the person behind the camera asks two of the women, "So which one of you is gay?" to which the straight woman holds up her hands as if to say, "How you could you think I was gay? Do I look gay?" Another clip of two different women reveals misconceptions about lesbians as the straight woman says, "You're so pretty to be gay." The gay woman laughs politely, but this moment is very illuminating into the delusions that many people have about gays and lesbians.
The Gay Women Channel, a YouTube channel that makes videos about lesbian experiences says, "The only thing better than women, are gay ones." We think that the only thing nearly as great as gay women is a platform to discuss LGBT issues, homophobia, lesbian experiences, and much more, like The Gay Women Channel has created. It's so important to spark conversations and create visibility through wide-reaching, artistic outlets, and for this we applaud them.
Make sure to subscribe to The Gay Women Channel to watch more awesome videos!