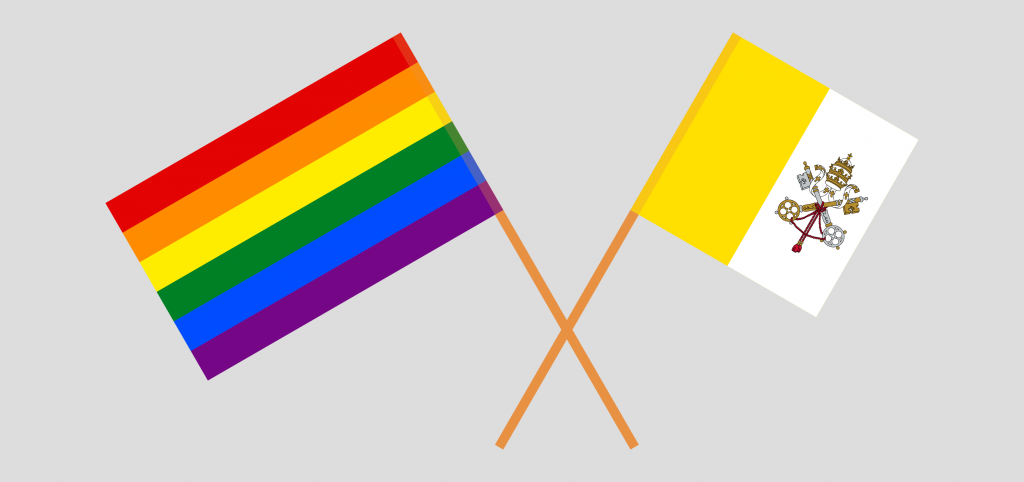 The U.S. Embassy to the Holy See will be flying the Pride flag through the month of June this year.
"The United States respects the dignity and equality of LGBTQI+ people. LGBTQI+ rights are human rights." The tweet from the United States embassy in the Vatican on Tuesday, June 1, was short but powerful in its sentiment. With that post, the embassy announced that it would be flying the rainbow Pride flag outside its premises through the month of June.
After several years of not being allowed to display any Pride flag outside U.S. diplomatic outposts, Secretary of State Antony Blinken announced in May that this year, it would be allowed. The authorization (not a mandate) was given just before May 17, the international day against queerphobia. It countermanded the previous Trump-era prohibition.
To see the Pride flag flying inside the "Holy See" will mean a lot to thousands of queer Catholics. Pope Francis has been outspoken about acceptance of and love towards gay, bisexual, and lesbian people, but the official stance of the Church and his office is still that homosexuality is a threat to godliness, to the natural order, and to the family. The Pope supports motions to exclude gay couples from adoption and to prevent trans youths from gender affirmative medical care.
It is important that, under a Catholic-American President, the U.S. representatives to the Vatican and the Catholic Church are making this statement. Dignity. Equality. Human rights.
"Pride is both a jubilant communal celebration of visibility and a personal celebration of self-worth and dignity," said President Biden in a statement on June first, honoring the start of Pride Month. He went on to praise the Supreme Court decisions of Obergefell v. Hodges, which recognized same-sex marriage as legal, and Bostock v. Clayton County, which ruled that sexual orientation and gender identity are protected against civil rights discrimination in the workplace.
Image: Shutterstock