The country's oldest LGBTQ advocacy group, the National Gay and Lesbian Task Force, recently announced that it would be changing its name to be more inclusive of the greater LGBTQ community. Just days before its annual Recognition Dinner in Miami, the organization revealed that its new name would be the National LGBTQ Task Force; after 40 years of supporting gay, lesbian, and queer individuals, the Task Force is working even harder to be inclusive and create a more equal world.
It's important to note that while the Task Force formerly didn't include bisexual, transgender, and queer in its name, the organization has always supported these communities and has broken ground for its advocacy efforts. In a recent press release about its name change, the Task Force explains, "The organization's new name is the National LGBTQ Task Force, its tagline is 'Be You,' and its vision is a society that values and respects the diversity of human expression and identity and achieves freedom and equity for all." Essentially, the organization's new name and mission were designed to be as inclusive as possible in order to strengthen the fight for equal rights.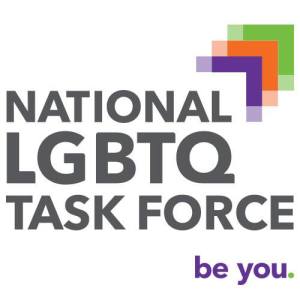 "We are seeing a real palpable hunger in LGBTQ people's hearts not just to be out, but to bring their entire selves to every aspect of their lives," said Rea Carey, the Executive Director of the Task Force. "And there is a deep desire for more change, to look beyond marriage equality, with millions of us still facing formidable barriers in ever aspect of our lives." The National LGBTQ Task Force seeks to create more equal schools, housing opportunities, employment, health care, faith congregations, retirement options, as well as to establish equality in regards to basic human rights.
To coincide with a new video about the changes happening at the organization, the Task Force explains, "The National Gay and Lesbian Task Force is changing its name and upping its game to tear down any remaining barriers to full freedom, justice and equality for LGBTQ people. We've made progress and we need to finish the job we started 40 years ago."
With this kind of proactive, dedicated approach, we have no doubt that the new and improved Task Force will be instrumental in earning equality for all.