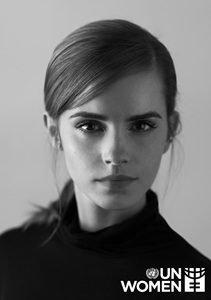 Most people know Emma Watson for her incredible portrayal of Hermione Granger in the Harry Potter series, but the 24-year-old actress is also an Ivy League graduate, social justice activist, and newly appointed United Nations Women Goodwill Ambassador.
According to the UN, "since the early 1950's, the United Nations has enlisted the volunteer services and support of prominent personalities from the worlds of art, music, film, sport and literature to highlight key issues and to draw attention to its activities." Being a Women's Goodwill Ambassador has provided Watson with a platform to address social issues such as gender inequality, which she did earlier this month in an inspired speech about equality.
Watson's speech, which highlighted the importance of feminism and invited male allies to join the movement to end gender inequality, was met with a standing ovation and showcased Watson's dedication to furthering the rights of women globally. In the speech, she discusses her own identity as a feminist, explaining, "I decided that I was a feminist. This seemed uncomplicated to me. But my recent research has shown me that feminism has become an unpopular word. Women are choosing not to identify as feminists. Apparently, [feminists are] seen as too strong, too aggressive, anti-men, unattractive," of the reasons many people are uncomfortable with identifying as a feminist.
Watson also mused, "Why has the word become such an unpopular one? I think it is right I am paid the same as my male counterparts. I think it is right that I should make decisions about my own body. I think it is right that women be involved on my behalf in the policies and decisions that affect my life. I think it is right that socially, I am afforded the same respect as men," of the basic human rights that so many women around the world are denied because of their gender.
Watson's speech was poignant, clear, and compelling. Like Chimamanda Adichie and other feminists who have spoken publicly about women's rights, Watson's call for feminism is an unequivocal one; it just makes sense that people should be treated equally regardless of gender. Watson's invitation for men to join the conversation was another highlight of her speech. She places the onus on all people, but wants to shatter misconceptions about feminism that promote the idea that it is a "man-hating" stance. He for She is Watson's cosigned initiative to create gender equality with the help of all men and women.
Emma Watson has been a beloved actress since she first graced the silver screen as Hermione Granger. With her ongoing work with the UN and commitment to global gender equality, it's clear that she has become a model feminist too.