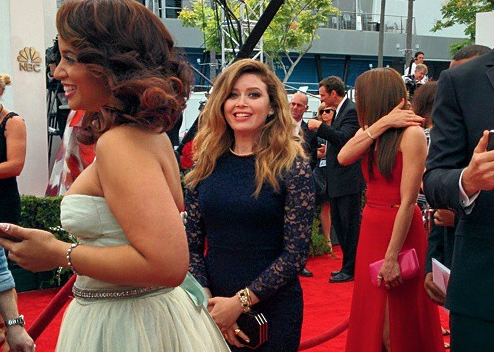 After the 66th Annual Primetime Emmys aired earlier this week, the awards show was met with a lot of criticism, but not for what you might expect. Surprisingly, viewers weren't as disappointed with the award winners for each of the small screen categories as they were with the sexism displayed during the show, as well as preceding it on the red carpet.
If you caught even just a glimpse of the red carpet pre-show, you may have found yourself asking: When are the reporters going to stop asking the actresses about what they're wearing and start asking about their work? You wouldn't be alone. Thousands took to social media using the hashtag #AskHerMore in hopes of challenging reporters to move beyond skin deep in their line of questioning.
Half of Melissa McCarthy's interview was about her dress, and the rest about her husband. 1 short question about her show? #AskHerMore

— Roxy Whorer (@RoxyWhorer) August 25, 2014
Hey, reporters– Ask Amy Poehler about @smrtgrls. Ask her about her inspirations and tips for empowering young girls. #AskHerMore #Emmys — Catherine (@catherinereport) August 26, 2014
#AskHerMore is a social media campaign that was originally launched by The Representation Project, "a movement that uses film and media content to expose injustices created by gender stereotypes and to shift people's consciousness towards change." Originally used during this year's Academy Awards show, #AskHerMore urges those with influence in the media to stop asking about what women are wearing on the red carpet, and start asking more about her career aspirations and humanitarian work.
Comedian Sarah Silverman created a lot of buzz during the Emmys when she thwarted questions about her ensemble with quick-witted responses like, "Why did you put the microphone in front of me? You didn't ask a question." Her interviewer, E!'s Giuliana Rancic, insisted on making comments about Silverman's dress, accessories, and even her breasts, but asked nothing about her current projects or future goals.
On the flip side, Rancic, who is a red carpet staple at these kinds of award shows, asked actor Jim Parsons of The Big Bang Theory, "How does it feel to be the Meryl Streep of the Emmy's?" The double standard depicted on the red carpet, and in the gender disparity that exists in the entertainment industry, is an obvious one. It is these instances of subtle, yet powerful sexism that promoted #AskHerMore.
What do you think about this social media campaign?