Mary Lambert – one of our favorite body positive musicians, LGBT rights activists, and leaders to an equal world – just released a new video for "Body Love," and it is stunning. Part song, part spoken word piece, "Body Love" is one of the songs from Lambert's 2013 EP, Welcome To the Age of My Body, which she released after earning major stardom from her collaboration with Macklemore. The EP earned the openly lesbian singer some serious musical credibility, and allowed her to transition seamlessly from melodic backup singer to center stage.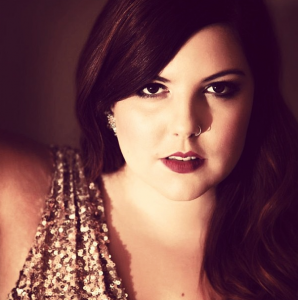 The music video for the song was released to coincide with Lambert's ongoing "Body Love Campaign," a social media initiative to inspire people to reclaim parts of their bodies they were formerly unhappy with. The campaign website explains, "As we countdown to the official video premiere for 'Body Love,' each day this week Mary will share a body part and why she loves it. Join her on Instagram and see your picture displayed here!" Using the hashtags #BodyLove and #LoveMyBody, Lambert connected with fans through her Instagram account, and encouraged them to share what they love most about their bodies.
"Body Love" is an anthem for body positivity, but it isn't without its notably dark verses that address self-harm and suicide, devastating beauty standards, and eating disorders. At one point early in the song she muses,
I know girls who are fleeing bombs from the mosques of their skin/ Playing Russian roulette with death; it's never easy to accept that our bodies are fallible and flawed/ But when do we draw the line?/ When the knife hits the skin?
Poetic and raw, "Body Love" begins by acknowledging that these pressures to look a certain way do exist, and that they are undeniably harmful to all people. As the song continues, Lambert encourages listeners to find a way to embrace their bodies. She says,
Try this/ Take your hands over your bumpy love body naked/ And remember the first time you touched someone/ With the sole purpose of learning all of them/ Touched them because the light was pretty on them/ And the dust in the sunlight danced the way your heart did.
Lambert's ability to address these issues in such an honest and purposeful way is one of the things that make her such an influential public figure right now. She hasn't wasted a single moment in the spotlight; rather, she has used her newfound platform to call attention to social injustices and issues such as constructed beauty norms, gender, love, equal rights, body positivity, and living the most authentic life possible.
Mary Lambert continues to enchant us, and we can't wait to see what else she has up her sleeve.