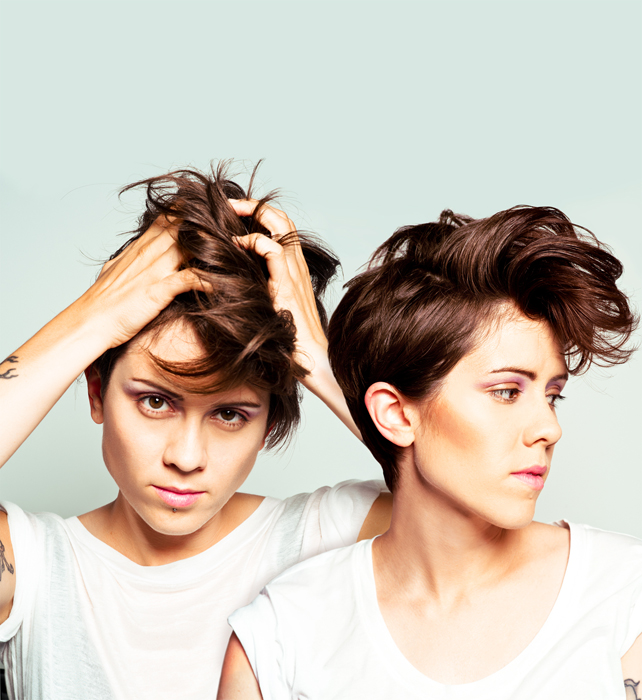 Tegan and Sara Quin, everyone's favorite Canadian music duo, were recently on George Stroumboulopoulos Tonight to talk about coming out, being gay in the entertainment industry, and Ellen Page. When Page came out at the Human Rights Campaign's (HRC) Time to Thrive Conference in February, she name-dropped twin sisters Tegan and Sara, mentioning how their openness has inspired her to be open about her own sexuality. The indie-pop musicians have long been regarded as two of the biggest gay icons in entertainment, and have used their star power to bring attention to LGBT issues over the last decade.
Tegan called Page's public coming out "Incredibly brave," and explained how, "It told a whole generation of young people that it's okay to be out." The sisters, who have both been very open and transparent about their sexuality throughout their career, discussed how when you're young and in the public eye, it's hard to know what is "yours and private" versus what is public. "We were so excited to be able to tell people we were gay," says Sara, reminiscing about her own coming out experience when she and Tegan were just entering into the mainstream music scene.
Tegan and Sara were delighted that Page gave them a nod in her coming out speech, and acknowledged that the actress has a long and promising career ahead of her, regardless of her sexual orientation. Tegan called Page's HRC speech "an important cultural moment," and it was indeed one that sparked a massive outpouring of support from fans, and inspired countless LGBT youth to feel more comfortable recognizing their own identities.
One of the things that makes Tegan and Sara so admired is their vulnerability in songwriting, their openness about their sexuality, and the positivity that they exude. The singers are huge proponents of marriage equality, and have even pledged not to wed until everyone is allowed to. It's inspiring to see gay women in the entertainment industry bringing visibility to LGBT issues, and standing together in solidarity against social injustice.
Learn more about Tegan and Sara's activism and music by visiting their website at www.teganandsara.com.
Featured Image by Lindsey Byrnes via teganandsara.com.