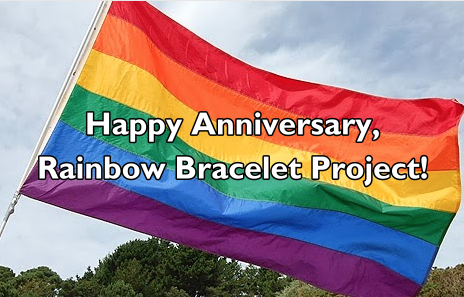 Two of our favorite leaders to an equal world, Allison Tannehill and Andrea Free, creators of the Rainbow Bracelet Project, are proudly gearing up to celebrate the one year anniversary of their campaign. Officially launched on March 20th, 2013, the Rainbow Bracelet Project has acted as an initiative to strengthen a network of LGBTs and their allies worldwide. With a two-part mission of raising funds for LGBT groups and creating a broader dialogue surrounding issues that the LGBT community faces, the project has been incredibly successful in sparking conversations, creating visibility for marginalized communities, and acting as a positive force within the greater fight for equal rights.
In its first year, the Rainbow Bracelet Project has reached 44 states and 16 countries, and has impacted the lives of people in nearly a dozen LGBT organizations. Pride NW, the Born This Way Foundation, Oregon United For Marriage, and the National Center for Transgender Equality are just a handful of the beneficiaries of the generosity and support of LGBT issues cultivated by the Rainbow Bracelet Project.
Says Rainbow Bracelet Project co-creator Allison Tannehill, "I really appreciate the support we've received in the last year. When we started this project we had no idea if it was going to turn into anything…" of the early trepidations she and Andrea Free experienced during the launch of their campaign. "We've seen so much support and have received messages from people telling us that they're glad we're doing this," she says. "All we're trying to do is educate, empower, and fight for a cause that is so important to us."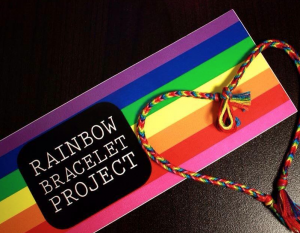 Both Tannehill and Free feel blessed about the support that they have received, and are incredibly excited about the year to come. Explains Free, "We've accomplished so much in our first year, and I can only imagine what our second year has in store. I'm especially excited about the work we're going to be doing with GSAs around the country," about the upcoming collaborations between the Rainbow Bracelet and various GSAs. Free says, "Our goal is to make a difference in the lives of young people; we want LGBT youth to feel included and appreciated while also helping to raise some money for their GSAs."
In honor of the one year anniversary of the Rainbow Bracelet Project, Tannehill and Free are hosting a contest, an event with a California-based GSA, and are both reflecting on a year of impact, equality, and change.
Learn more and get involved by visiting the Rainbow Bracelet Project's official website, and by connecting with the project on Facebook.